Designed with intention so you can launch with ease
Our collection of showit templates was designed to be easily customizable, quickly implementable, and strategically aligned.

A Showit website template designed for vintage lovers and the nostalgic at heart. This editorial style template is filled with subtle romantic details.
A Showit website template designed for the edgy entrepreneur. This high-impact template is designed to make your business stand out from the crowd.

A Showit website template designed for the refined yet chill creative entrepreneur. This editorial style template is filled with fun flourishes to match your personality. 
Our templates are built with ease in mind to help you launch your website quickly and with confidence.
no code design / Responsive Design
Our templates are built using Showit's intuitive drag and drop builder, making it easy for you to customize every aspect of your site without any coding experience. And because Showit is optimized for both mobile and desktop design, your website will look stunning and be user-friendly on any device. With our templates, you'll have the flexibility and freedom to create a website that perfectly reflects your brand, without any technical headaches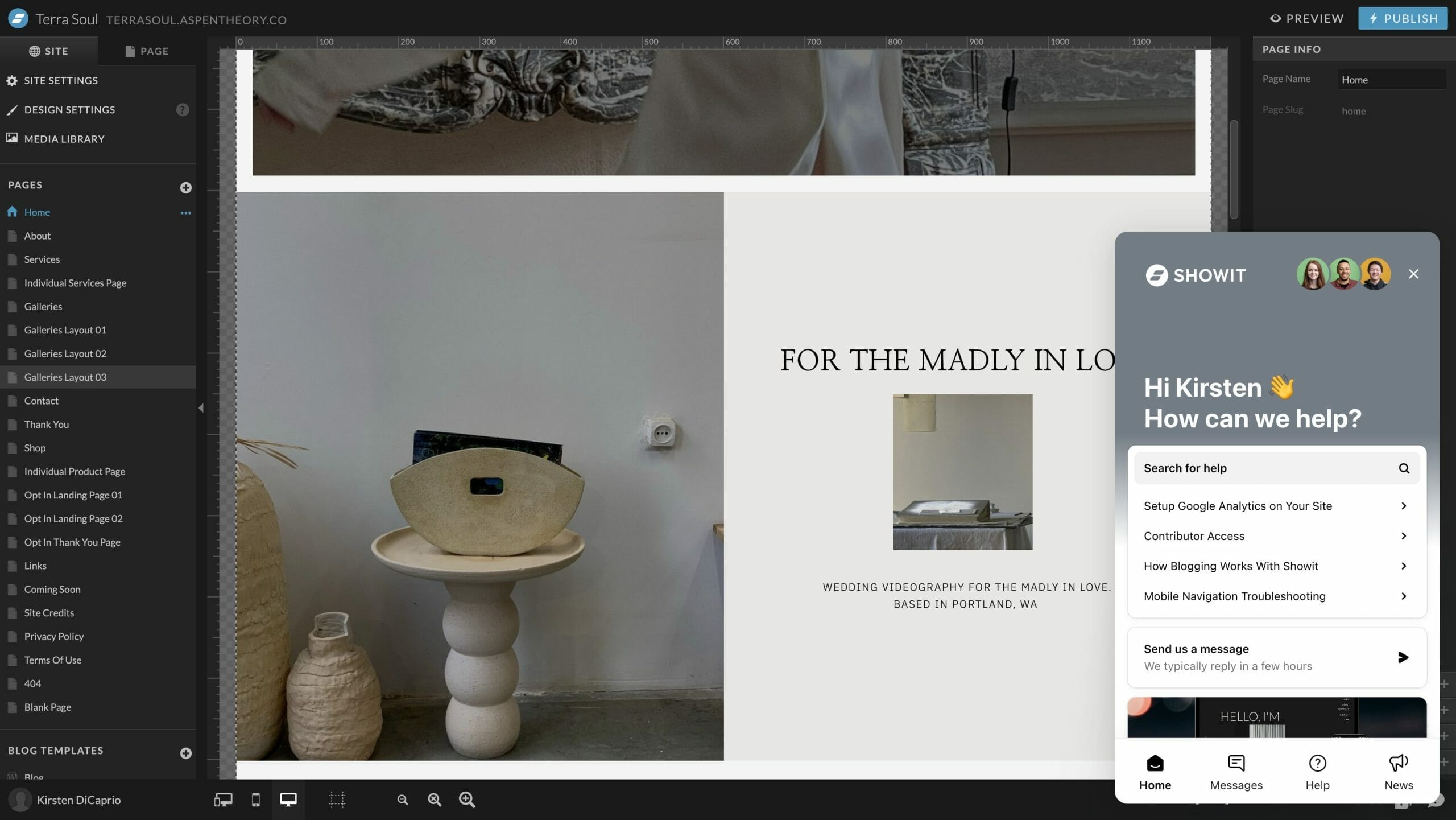 Custom Tutorials and unmatched support
Our custom how-to video tutorials are designed to make navigating Showit a breeze. From getting started to mastering advanced features, we'll guide you through every step of the way. And if you ever need additional support, our team is here to help. You'll also have access to Showit's award-winning team is available 24/7 to answer your questions and help you overcome any challenges you may encounter.
Completely Customizable Drag and Drop Design
Every piece of the template is designed to be updated with ease. With our intentionally designed templates and Showit's intuitive drag and drop feature, updating your website has never been easier! Whether you're changing fonts and colors or customizing your layout and content, it's all just a few clicks away. Our comprehensive video tutorials are designed to guide you through every step of the process, so you can confidently create a website that beautifully showcases your brand.
Showit makes optimizing your website for search engines easy with built-in SEO tools. You can customize your website's title tags, meta descriptions, and other important elements to ensure your site is fully optimized for search engines. Showit is built on the powerful WordPress platform, which gives you access to all the features and functionality of WordPress without any advanced technical skills. With Showit, you can create a stunning, high-performing website that drives traffic and conversions, all without needing any specialized technical knowledge.
Choose from any of our custom templates and you'll instantly receive access to install the template on your Showit site. 
Quickly customize the template by updating the colors and fonts to match your brand palette.
Follow along with the custom video tutorials to swap out the content and make the site your own.
Hit publish and celebrate! You just launched your custom designer website with ease.